As some of you may know, the LA Art SHow is held annually at the Convention Center in downtown Los Angeles. It showcases a wide array of art spanning the historical to the contemporary. This year Joanna Burke Art Consultants Loss Angeles found many interesting and inspiring works.
We visited Peter Blake Gallery's booth, which contain an amazing example of art from the Light and Space movement. This movement was popular in the 1960s and 70s and emphasized installation works that sculpt space and alter perception. To start, there was Steve Burtch's No. 14017, Peter Alexander's Blue Box and the following California Minimalist piece.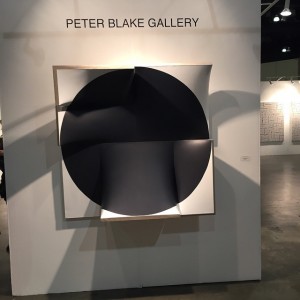 Another notable artist whose work was present at the LA Art Show was the contemporary graffitist RETNA, who is perhaps best known for his gestural, calligraphic marks. As with Keith Haring, Jean Michel Basquiat and the artists of the 198o's East Village scene, RETNA utilizes expressionist and hieroglyphic imagery to convey deeply personal messages. This aesthetic became a widely recognized visual language during the 20th century and is best evidenced by RETNA's gold and gray scale canvases.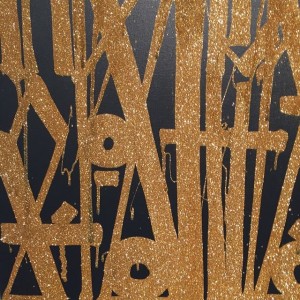 Damien Hirst is yet another artist whose body of work was well represented at the LA Art Show. An Englishman, Hirst was a member of the group known as the Young British Artists (YBA's) and dominated the art scene in the United Kingdom during the 1990s. The YBA was occupied by the reoccurring theme of death as emphasized through the reuse of imagery that is seemingly repulsive and shocking. As such, Hirst juxtaposes butterflies symbolic of rebirth with ominous skulls and creates canvases that appear kaleidoscopic yet potentially violent.
Anthony Hernandez was yet another artist whose photographic work captivates. Hernandez selects interesting passerby's at random and captures them in moments of thoughtful repose or sheer surprise so as to capture the social language of their body as well as place in society. His images of inanimate objects in urban settings also function to address issues of inequality, racism, politics and especially personal identity.