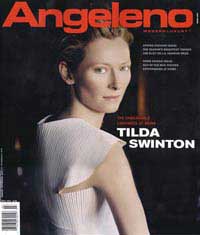 HOUSEWARMING TREND
Furniture seller Thomas Lavin finds the perfect venue to sweat the small stuff
by Alexandia Abramian-Mott
photography by Hill/Conelly Photography
Thomas Laving was an adept party thrower long before he became a homeowner. The 38-year-old Angeleno honed his hosting skills at his eponymous furniture showroom on Beverly Boulevard where, among Michale Smith-designed sofas and Madeline Stuart end tables, he threw some of the most lavish in-store shindigs this side of the Pacific Design Center.
So when he bought a Spanish-style home off of Melrose Avenue last fall, it was the dawning of a new age of soirees for Lavin. Suddenly, the planning went from catered crudites and cheese platters for 500, to intimate gatherings where he could whip up buckwheat biscuits topped with dill butter and gravlax. And what better way to celebrate his latest venue for get-togethers than with a housewarming party?
Lavin's philosophy is simple enough: "If you're going to have a party, do it right," he says, placing what must be at least $300 worth of Teuscher chocolate truffles on a three-tiered silver serving piece for dessert. The menu, which he designed to be "easy to pick up and pretty to look at," is a sophisticated assortment of appetizers served buffet-style, including individual racks of lamb, chicken satay skewers, deviled eggs with caviar and a selection of cheeses.
Doing it right means that Lavin completed the shopping three days earlier, and hired a server for the night so that he'd be free to mingle with guests. Joanna Burke, the art curator at his showroom, arrives a little early to consult on hanging a photograph in the dining room. It's a last minute touch that to Lavin is just as crucial as having enough ice on hand. "I was decorating my house right up until the first guests arrived," says Lavin. The fact that his front yard isn't landscaped yet is a sore spot, but he's glossed over that fact by reducing outdoor lighting to just a few pillar candles.
Interior desingers, clients of the showroom and old friends mingle through the 1,400-square-foot home. The topic of much conversation is, of course, the decor. With a showroom full of furniture at his fingertips, Lavin has used expert restraint, combining contemporary pieces with bold artwork and family treasures. "My apartment was crammed with stuff," says Lavin. "I wanted to edit this down to the bare essentials."
Drinking cocktails and nibbling on spiced nuts, guests releax on his club sofa and leather chairs that are paired with a beautifully stark bronze coffee table designed by Gary Hutton. Mixed in with the clean-lined pieces, Lavin has added a 19th-century Moroccan side talbe as well as a pair of Baccarat candelabra that were his great-great grandmother's.
The same relative was also the previous owner of his dining set, a stately mahogany table with chairs reupholstered in modern blue leather with etched flowers. After dinner, Lavin fills the Federal style table with enough dessert to feed a gala's worth of guests. There are chocolate-dipped strawbetteries, mini tartlets, wedding cookies, as well as the three tiers of chocolate truffles. But Lavin doesn't worry about leftovers. Entertainming in grand style is a hard habit to break.